The Beauty and the Beast Platinum Edition
The Platinum Edition line of DVDs consist of Disney's most popular films released in special 2-disc DVD box set. These sets are special in that they not only have been enhanced and restored for better quality and picture, but they are filled with tons of special features that Disney fans will undoubtedly love. A Platinum Edition release is made twice a year, in March and October, and after these films sell out, they will go back into the Disney Vault for another seven years. In 2002, Disney released the Platinum Edition version of Beauty and the Beast, and it is now virtually unavailable except on websites such as Amazon or eBay. The Beauty and the Beast Platinum Edition DVD was released in two versions, one was a red collector's box edition and the other was a blue DVD set. Both are filled with special features, however features differ for VHS and other language versions. Here is some information about the release.
Disney's most acclaimed and beloved film just got even better! With its incomparable blend of magic and award-wining music, BEAUTY AND THE BEAST won the prestigious Golden Globe for Best Picture (1991, Best Comedy or Musical) and is the only animated film ever nominated for a Best Picture Academy AwardŽ (1991). Now magnificently restored and remastered, BEAUTY AND THE BEAST SPECIAL EDITION features an all-new song, "Human Again," seamlessly integrated into the film. And in this groundbreaking 2-Disc Platinum Edition DVD, you'll enter the Beast's castle and explore its many secrets -- with three versions of the film, never-before-seen movie secrets, exciting games featuring all-new animation, and more! Disney magic reigns supreme in this triumphant 2-Disc Platinum Edition DVD -- a must for every DVD library! - - From Disney.com
What Is Included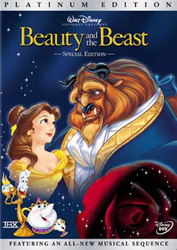 3 Enchanting Versions Of The Film
Celine Dion And Peabo Bryson Music Video
Never-Before-Released Behind-The-Scenes Footage
Filled With All-New Exciting Games
First-Ever Digital Presentation Using High-Definition Transfer Technology
DVD Secrets. For example, the DVD Easter Eggs secret requires you to select the Cogsworth and Lumiere option on the main menu [of disc two] which leads to a long list of features. On this menu highlight, but do not select, the 'Play All' option. Press the down key to highlight the chair by the fireplace, which will then unfold the hidden feature.
Specifications
Beauty and the Beast
Special Edition DVD
Languages: English
Studio: Walt Disney Home Video
US/Canada Rating: G
Genre: Animation
Approx. Run Time: 90 Minutes
Release Date: October 2002
Technical Specifications:
Color
1.85:1 Aspect Ratio
Region 1
Dolby Digital 5.1 Surround Sound, THX-Certified
Differences in DVD, VHS, LANGUAGE
There are several differences between the DVD and the VHS and other Language Editions. For example, here are differences between in the VHS and the Spanish editions.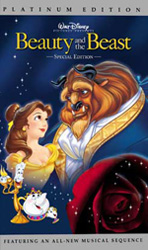 Beauty and the Beast
Special Edition VHS
Some Minor Differences from the DVD
Differences in the Bonus Features and Technical Specifications
Bonus Feature(s):
Fully Restored And Remastered With An All-New Remixed Soundtrack
All-New Music Video Of "Beauty And The Beast" By Pop Sensation Jump 5
Technical Specifications:
Color
1.33:1 Aspect Ratio
NTSC
Dolby Surround Sound, THX-Certified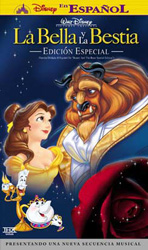 Beauty and the Beast
Special Edition Spanish VHS
Some Minor Differences from the DVD
No Bonus Features and differs in Technical Specifications
Technical Specifications:
Color
1.33:1 Aspect Ratio
NTSC
THX-Certified