The Making of Beauty and the Beast
Background Information on the Film: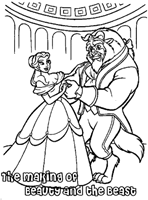 Beauty and the Beast is a fairy tale that has been passed down for many years. Currently, there are many different books with different versions of the story. Beauty and the Beast is Disney's thirtieth animated movie picture, and is set in France. The film itself took three and a half years to produce with the help of more than five hundred talented workers and computer animations in some scenes. Inspiration for the film came from visits to France, observance of its landscape and surroundings (setting), and from paintings of France in much earlier centuries. Disney also used a live actress, Sherri Stoner, who portrayed Belle in order to catch the essence and to be able to draw and animate her more effectively. Inspiration for the Beast's image was said to have come mostly from a buffalo, but was also inspired by other animals such as bears. The recently released (October 8, 2002 Platinum Edition DVD) Beauty and the Beast features the song "Human Again" that was not featured in the first release of the film and also includes three versions of the film: the 2002 Special Edition, the original 1991 theatrical version, and the 1991 Work in Progress version shown at the New York Film Festival before the film's release. So much hard work and dedication went into this film, that it deserves a standing ovation. It is a great work of art, a great motion picture, and a great story. The creators at Disney should be very glad they have released this work of joy for the world to be able to view, because it is extremely wonderful. Beauty and the Beast is a timeless classic about a timeless love, filled with timeless characters and a timeless plot, and it will continue to live in my heart, thoughts, and dreams forever, because it is about a love that goes on forever.
Note:
Howard Ashman, who wrote the lyrics and worked with Alan Menken to compose the beautiful score, and was also Executive Producer of the film, passed away early the year Beauty and the Beast was released (March 14, 1991). Beauty and the Beast was dedicated to Howard Ashman: "To our friend, Howard, who gave a mermaid her voice and a beast his soul, we will be forever grateful."
Statistics:
Release Date:
November 13, 1991 (Premiere), November 22, 1991 (Public).
Run Time:
Approximately 84 Minutes.
Box Office Revenues:
More than $140 Million Dollars, which made it the most successful animated picture.
Directors:
- Gary Trousdale
- Kirk Wise
Writing Credits
Roger Allers -story supervisor
Kelly Asbury -story
Brenda Chapman ~story
Jeanne-Marie Leprince de Beaumont -story (uncredited)
Tom Ellery -story
Kevin Harkey -story
Robert Lence -story
Burny Mattinson -story
Brian Pimental -story
Joe Ranft -story
Chris Sanders -story (as Christopher Sanders)
Bruce Woodside -story
Linda Woolverton
Produced by
- Howard Ashman - executive producer
- Don Hahn - producer
- Sarah McArthur - associate producer
Original Music by
- Alan Menken
Production Companies
- Silver Screen Partners IV
- Walt Disney Pictures